Immer am Wochenende (Bleiben wir realistisch: soweit möglich.) gibt es hier einen Sammelpost mit allem, was es nicht zu einem eigenen Artikel gebracht hat. Das ist mal mehr, mal weniger. Mal gucken, wie's klappt.
(via
nerdcore.de
)
---
Der gute Anuar macht spektakuläre Fotos.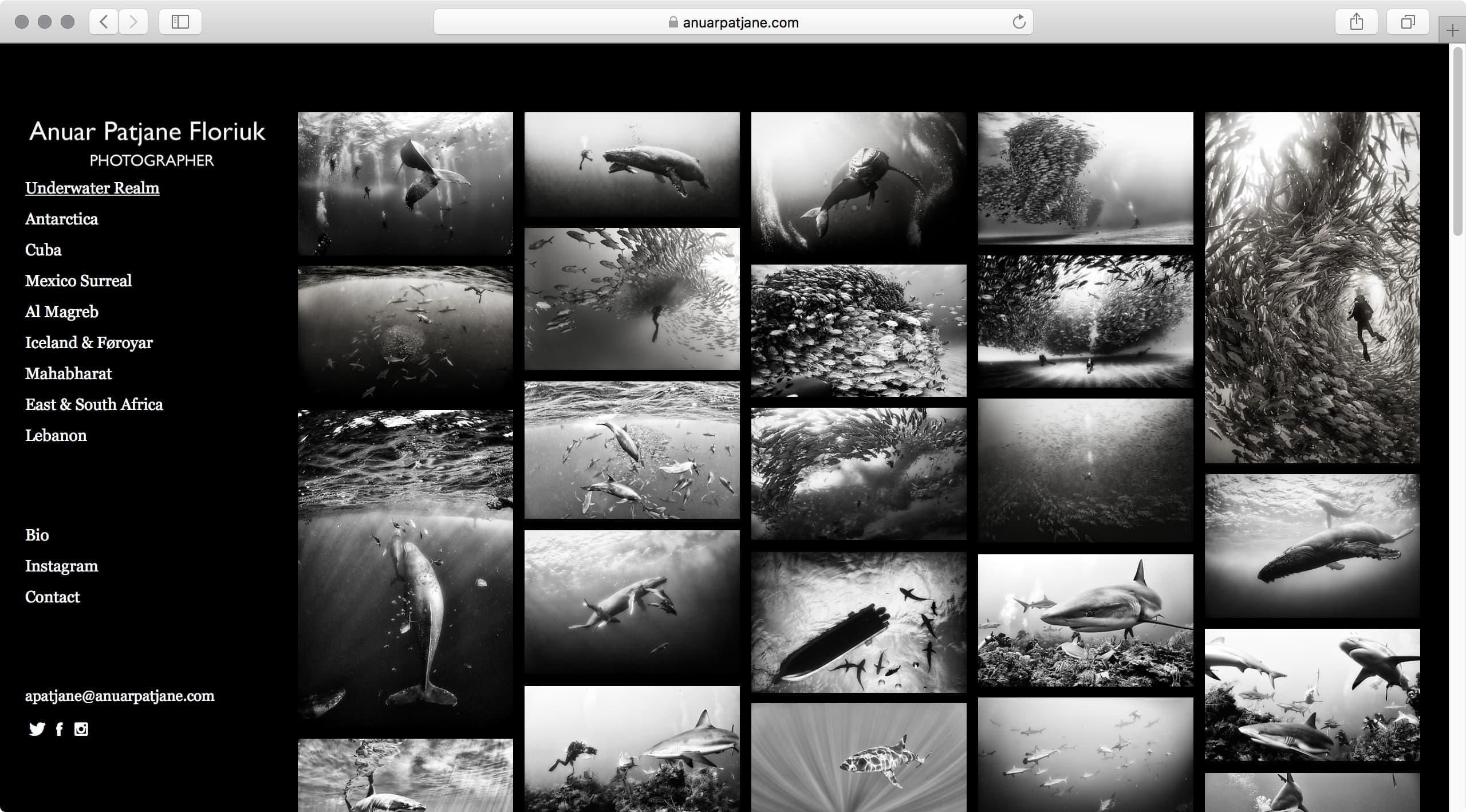 Ist übrigens auch auf Instagram vertreten.
---
---
Atmospheric suspense drama. A lone hiker searches the moors for her sister, despite an invisible and deadly toxin that could overtake her the moment the wind changes.
---
The hostility of the Amazon and its natural forces reaches superlative levels during the shooting of a film. The overpowering jungle and harsh weather lead the film crew to plot the assassination of the main actor. As in cinema that scrutinizes itself, we revisit in a vertiginous sequence shot a myth of the history of film when in the toughest part of filming Fitzcarraldo, Werner Herzog fantasize about killing actor Klaus Kinski.
---
---
Klicken Sie auf den unteren Button, um den Inhalt von deep-dark-fears.tumblr.com zu laden.
---
Kae Kurd shares his experience of dealing with a dreadful customer…and getting his revenge. First in a series I directed for Comedy Central.
---
---
a major update for microsoft phones
---
A hungry dragon chases after an oblivious grandma that is too focused on making her favorite apple pie to notice the death and destruction going on around her..
---
Mexico City is impossible to describe; this video mixes time-lapses with drone shots that try to convey the city from a different perspective.
---
A man tries to keep in touch with a woman through an old radio while being pursued by a mysterious black-clad group in a post-apocalyptic world where art has been destroyed.
---
I originally set out to make this film as a homage to Wallace Stegner and the enduring words he wrote in his famous 'Wilderness Letter' to Congress in 1960. His poetic appeal for robust and comprehensive conservation efforts of America's wild lands gave me pause. In this current political climate his words began to take on new meaning. His plea for what wilderness can do for us is more relevant now than ever. Thousands of acres of our remaining public lands are threatened everyday. We need to stand together to protect America's wild lands from being sold off to the highest bidder. We must preserve wilderness as a "means of reassuring ourselves of our sanity as creatures, a part of the geography of hope."
---
---
This is a visual essay exploring the future technology of synthetic biology.
In recent years there have been major breakthroughs in DNA editing. Making
it inexpensive and precise to modify and or combine living organisms to our
design specifications. Through the combination of organic and mechanical
archetypes into new forms, we wanted to stir the imagination of designers and
engineers. The goal of this project is to spread synthetic biology into the sci-fi
communities. To help us visualize the design and engineering possibilities that
this technology can bring to us in the future.
---
A Report Of Connected Events is a branded content film directed by Mischa Rozema and produced by PostPanic. Celebrating the power of storytelling, it was commissioned by Nuna9 on behalf of their client, Liberty Global. Filmed in Paris, the piece explores iconic moments in film and television history, blurring the lines between our reality and some of our favourite stories.
---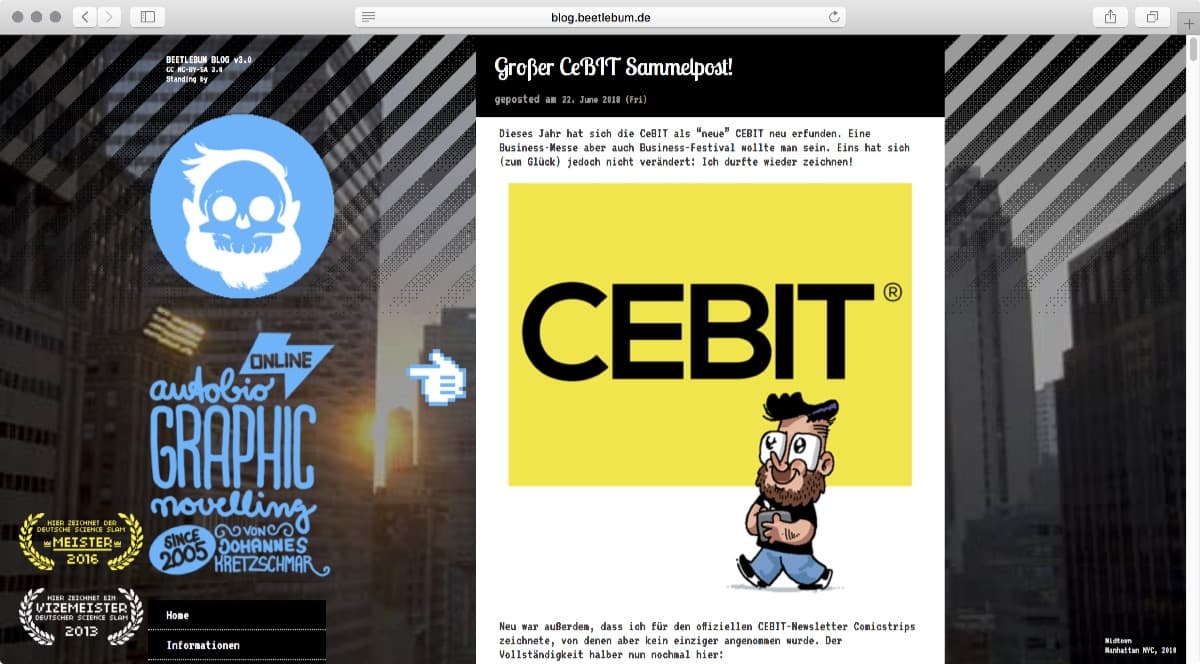 Dieses Jahr hat sich die CeBIT als "neue" CEBIT neu erfunden. Eine Business-Messe aber auch Business-Festival wollte man sein. Eins hat sich (zum Glück) jedoch nicht verändert: Ich durfte wieder zeichnen!
---
Featuring Cailey Fleming (Young Rey from Star Wars: The Force Awakens) and Paul Petersen, this sci-fi short follows Dr. Theodore Maine in his quest to relive a memory with his mother that he deeply regrets. Ted's personal endeavor is taking away from his work with Alzheimer's patients at Janus Labs and his lab partner, Shea Rose, is getting fed up with his tardiness and lack of focus. That is, until, a mysterious visitor named Obee changes Ted's life for good. Memoir is a short proof-of-concept for a feature film of the same title. With the short film, it was our goal to capture the tone and essence of the feature, without taking any scenes directly from the feature script.
---
---
---
EPISODE 1 of Reanimation! Science Stories about Frankenstein. What have we learned from science's most infamous doctor-patient relationship? A seven part series created by seven animation teams and twelve scientists, writers, engineers, physicists and an archaeologist, on the lasting impact of Shelley's famous work. The series delves into the origins of life and consciousness, toolmaking, artificial intelligence, augmented bodies and minds, and the ethics of playing God.
---
---
In our self-obsessed social media culture, we all still have basic survival needs…. right!?
(via
langweiledich.net
)
---
A macho toy arcade prize is quick to judge a young girl who wants to win him, and goes on a life changing journey in attempt to stop her from winning enough tickets and taking him home.
(via
langweiledich.net
)
---