Es wird mal wieder Zeit für eine Comic-Empfehlung. (Keine Angst, selbstverständlich kommt gegen Ende auch noch ein passender Kurzfilm. ;) )
Neulich bin ich durch einen Artikel bei nomnomnom auf die Boumeries von Samantha Leriche-Gionet gestoßen.
Ich könnte jetzt natürlich versuchen, etwas über die Dame zu schreiben, aber freundlicherweise hat sie das auf ihrer Website bereits selbst getan. Und da ich ziemlich faul bin und sie sich besser kennen dürfte als ich sie, kleb ich euch das mal hierhin:
Samantha Leriche-Gionet (aka Boum) is a 26-ish freelance filmmaker, animator and illustrator who lives and works in Montreal, Canada.
She enjoys the company of rabbits, snowy days, cheese, retro video games, and sporting weird hairdos.
Boumeries is mostly about her life sharing a four-room flat with her programming partner Pierre-Luc, working at home, juggling with everyday chores and drawing, and having absurd dreams in the meantime.
Man kann sich das Ganze auf ihrer Website comics.boumerie.com angucken und zusätzlich auch ganz klassisch auf Papier bestellen, denn sie hat eine Auswahl auf über 80 Seiten gedruckt. Wahlweise gibt's das feine kleine Buch auf Französisch oder auch auf Englisch, was erfahrungsgemäß mehr Abnehmer finden dürfte. Ein Klick auf das Bild bringt euch zu ihrem Webshop: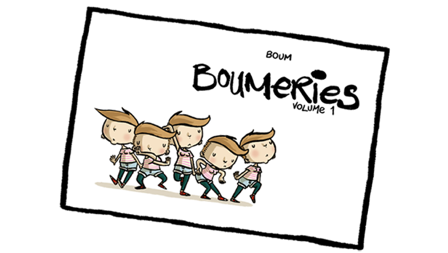 Ich kann es jedenfalls sehr empfehlen. Die Comics sind unheimlich charmant und eignen sich wunderbar für einen Sonntag auf der Couch. Noch einen großen Pott Kakao dazu und fertig. :)
Wer charmante Comics mag, ist sicherlich auch für putzige Kurzfilme zu haben. Und wie es der Zufall will, hat mir Samantha per Mail gesteckt, dass sie doch auch mal Kurzfilme gemacht hat. (Den Link auf ihrer Website hatte ich irgendwie übersehen…)
Bei Kurzfilmen, in denen ein kleines Mädchen Schneemänner verstümmelt, lass ich mich ja nicht zweimal bitten, wenn sie gut gemacht sind. Et voilà!
A little girl steals the carrots from all the snowmen in town. My graduation film from the Mel Hoppenheim School of Cinema (Concordia University).
Flocons et carottes (Snowflakes and Carrots)
ist ein Kurzfilm von
Samantha Leriche-Gionet
.