Da werd ich direkt ein bisschen nostalgisch. Irgendwann vor ziemlich genau acht Jahren hab ich den Webcomic von Samantha aka Boum für mich entdeckt. Sie war grad dabei das erste Buch rauszubringen, das ich direkt gekauft hab und nebst wunderbarer Widmung aus dem fernen Kanada zugeschickt gekriegt habe. Selbstverständlich hab ich damals was dazu geschrieben, schließlich hatte sie auch nen Kurzfilm in petto.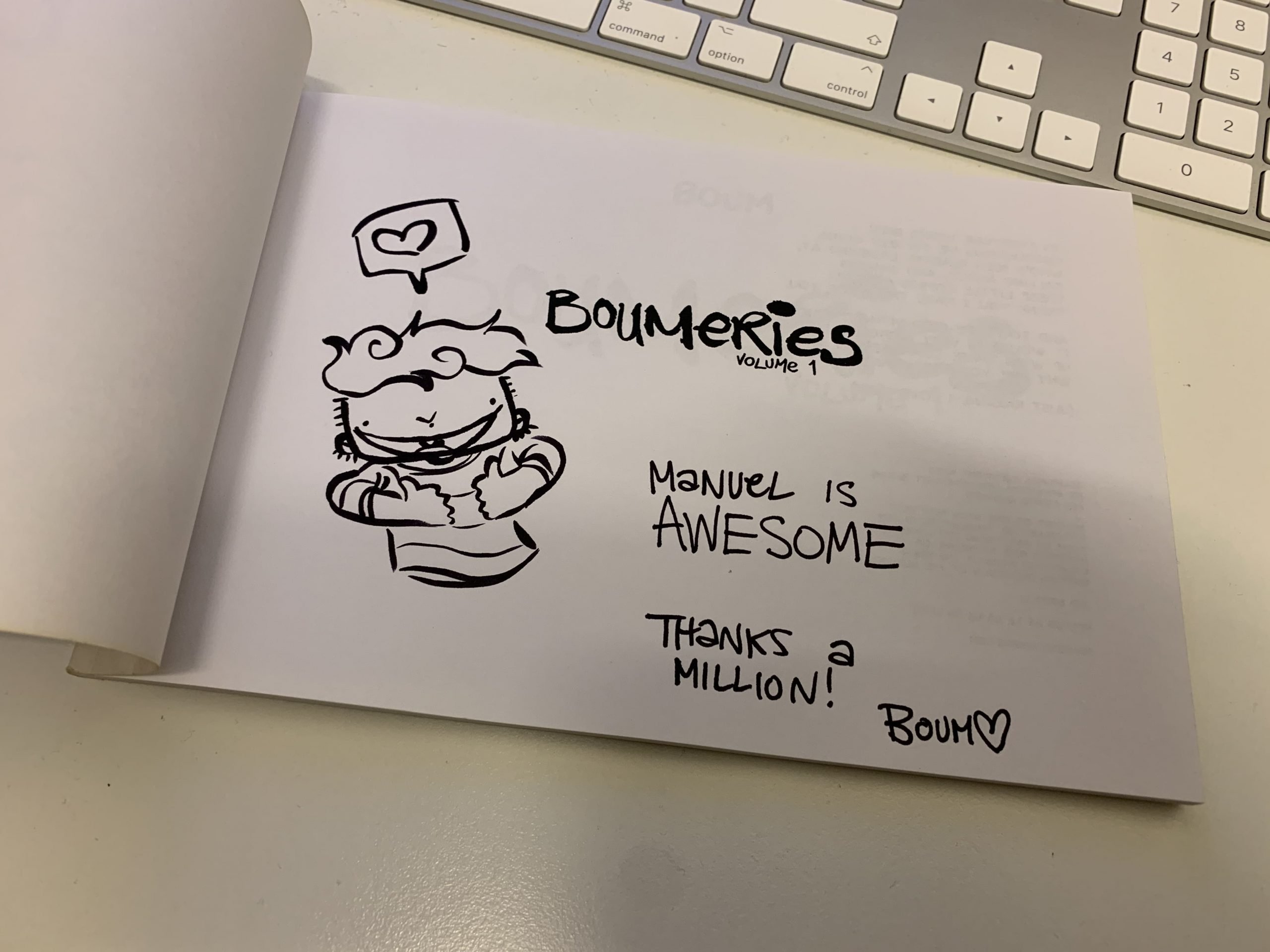 Seitdem hat Sam einen Stammplatz in meinem Feedreader und hat mich und andere mehrmals die Woche mit feinen Strips versorgt, die den Alltag zeigen, wie er nunmal ist. Ein bisschen schräg, manchmal anstrengend und ganz oft lustig und auf die ein oder andere Weise schön.

Und jetzt? Jetzt ist es damit erstmal vorbei, weil sie die Boumeries sehr zu meinem Verdruss einstellt, um wieder mehr Zeit für anderes zu haben. Und so kam es, wie es kommen musste. Heute wartete er im Feedreader, der letzte Strip.
Noch einmal ein Gang aufs Klo, diesmal nicht im Traum und völlig ohne Überraschung und ganz zum Schluss ein Ausblick voller Wehmut und Vorfreude auf das, was da noch kommen mag. es steht wohl ein Buch an.
When all of this is out of the way, I'll finally be able to start real work on my next comic project. It's a 200+ page graphic novel about young adulthood, independence and acceptance, and love. I'm excited and scared all at once!
Ich freu mich drauf. (Bis dahin hoffe ich, dass sie die Gesamtausgabe auch auf Englisch rausbringen wird. Mein Französisch ist doch ein bisschen eingerostet…)