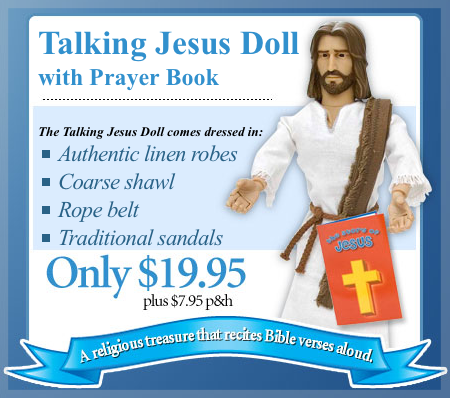 Share a connection to Jesus and the scriptures with your child.

The Talking Jesus Doll is a religious treasure that recites key verses from the Bible aloud. Just press the button and the Talking Jesus Doll speaks to your child. It's a great way to create a personal connection between God's word and your child.
Unbedingt das Video auf der Website zur Puppe angucken: buytalkingjesus.com
Lass ich mir das Teil aus den Staaten mitbringen? Hm…
Was ich damit machen werde, weiß ich zwar noch nicht so genau, aber irgendwas wird mir schon noch einfallen. Man könnte dem Ding lauter Sprüche aus schlechten Pornos einpflanzen.
Vorschläge?
(via)