Haben wir erstmal begriffen, dass und wie sehr wir verliebt sind, werden viele Sachen plötzlich viel klarer. Was man will, wohin man will und auch, na klar, mit wem.

Was man oft erst noch begreifen muss und was man in der Euphorie, die wie auch ein gewisser Zauber jedem Anfang innewohnt, oft zur Seite schiebt: Es kann auch schwierig werden. Auch im Paradies können Wolken aufziehen. Sehr dunkle Wolken, die auch die strahlende Zukunft, die sich am Horizont andeutete, völlig überschatten können.

Das kann man aussitzen oder darauf hoffen, dass es sich schon fügen wird oder dass man es schon gemeinsam hinbiegen wird. Dableiben und nicht wegzugehen kann zur Prüfung werden.

Aber dableiben kann auch einfach sein, die bequeme verlockende Lösung. Was, wenn wir weggehen und alles und jeden verlassen müssen, um sie zu retten?
Lost & Found is a stop motion short film that tugs at the heartstrings. A knitted toy dinosaur must… [Von wegen! Der Rest der Beschreibung spoilert mir n bisschen zu sehr.]
Lost & Found
ist ein Kurzfilm von
Andrew Goldsmith
und
Bradley Slabe
.
Bei einem solchen Kurzfilm ist ein Making of natürlich interessant, weshalb ich das hier noch einbinde.
Selbstverständlich gibt es mit lostandfound.film auch ne Website zum Film, die unter anderem auch diese tollen Plakate zeigt, auf denen man mit den beiden Hauptfiguren berühmte Filmposter nachstellt. Einfach draufklicken, um sie auf der Website in voller Größe zu sehen. (Fast übersehen, hätte Maik die nicht bei sich reingeklebt.)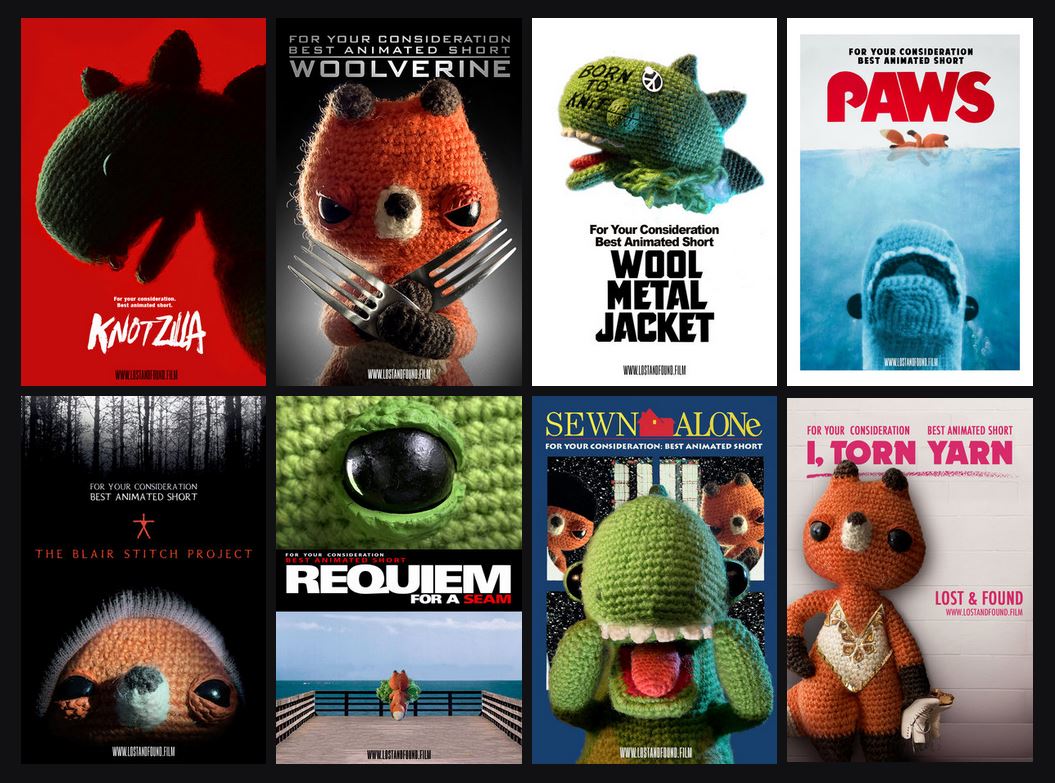 (via: shortoftheweek.com und langweiledich.net)