Immer am Wochenende (Bleiben wir realistisch: soweit möglich.) gibt es hier einen Sammelpost mit allem, was es nicht zu einem eigenen Artikel gebracht hat. Das ist mal mehr, mal weniger. Mal gucken, wie's klappt.

(via blogrebellen.de)
---

Johnny Knoxville breaks down all the injuries of his career. From pepper spray and taser guns, to breaking his ankle crossing the LA river, to getting shot by a rocket over a lake and getting landed on by a motorbike, listen to Johnny break down the timeline of his injuries
---
Richtig schönes Ding. Wie ausm Lehrbuch.

intercepted a tornado at close range 8 miles north of Laramie, Wyoming
---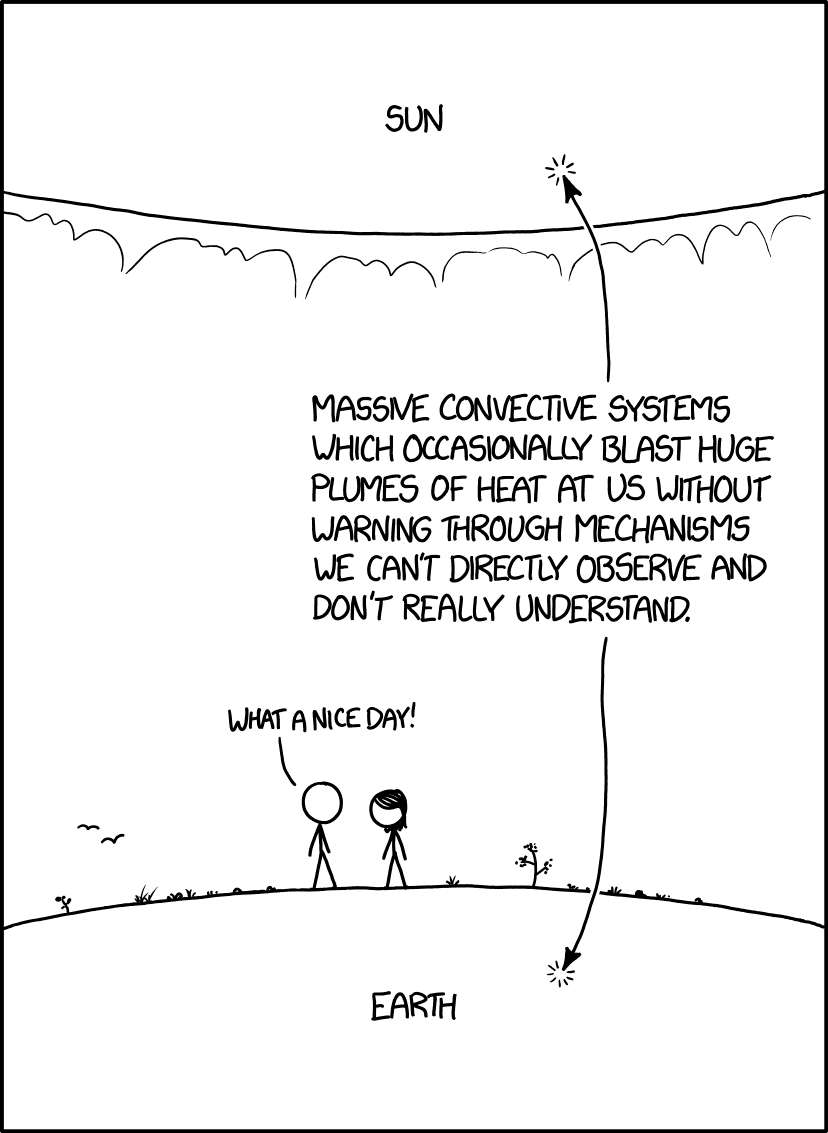 But we don't need to worry about the boiling masses sandwiching the thin layer in which we live, since we're so fragile and short-lived that it's unlikely to kill us before something else does! Wait, why doesn't that sound reassuring?
Titel: Sun and Earth. Autor: Randall Munroe. Lizenz: CC BY-NC 2.5. Danke!
---

A huge thank you to Lance and Wes for taking me to one of earth's most powerful, harsh, and beautiful places. It was a deeply moving and humbling experience.
---
Kein Time Lapse Video.

Explanation: These people are not in danger. What is coming down from the left is just the Moon, far in the distance. Luna appears so large here because she is being photographed through a telescopic lens. What is moving is mostly the Earth, whose spin causes the Moon to slowly disappear behind Mount Teide, a volcano in the Canary Islands off the northwest coast of Africa. The people pictured are 16 kilometers away and many are facing the camera because they are watching the Sun rise behind the photographer. It is not a coincidence that a full moon rises just when the Sun sets because the Sun is always on the opposite side of the sky from a full moon. The featured video was made last week during the full Milk Moon. The video is not time-lapse — this was really how fast the Moon was setting.
(via Astronomy Picture of the Day)
---

Houshi Ryokan was founded around 1,300 years ago and it has always been managed by the same family since then. ?It is the oldest still running family business in the world.
This ryokan (a traditional japanese style hotel) was built over a natural hot spring in Awazu in central Japan in the year 718. Until 2011, it held the record for being the oldest hotel in the world. ?
Houshi Ryokan has been visited by the Japanese Imperial Family and countless great artists over the centuries. Its buildings were destroyed by natural disasters many times, but the family has always rebuilt. The garden as well as some parts of the hotel are over 400 years old.
Houshi (??) means buddhist priest. It is the name of the family as well as of the hotel.
---
Monströs monoton. Das sind echt mal Jobs aus der Hölle. Meine Lieblingsszene kommt bei Minute 7:09 und zeigt Kriegsszenen zwischen Geschwistern. :)

For her latest film, Chinese-American director Jessica Kingdon takes us on a tour of China's Yiwu Market—the largest wholesale consumer goods mall in the world. This award-winning work, which screened at Slamdance Film Festival, focuses on the daily lives of market vendors and their role in facilitating the flow of the world's consumer goods and tchotchkes—from phone cases to plastic flowers. Talking about her transfixing and thought-provoking work, Kingdon explains: "The markets have their own routines and rhythms, where the space—sprawling across five miles—operates according to the fluctuating demands of the global economy."
---

Nate Henn was full of humor, generosity and spirit. He was so alive. But then, in 2010, a series of terror-related bombings devastated Kampala, Uganda, leaving 74 people dead, including Henn. The news was a devastating blow for his best friend Tyler Dunning, who plunged into darkness, grief, anger and self-medication. His only solace? Exploring Rocky Mountain National Park, where the cliff faces, pine forests and wildlife softened his raw emotions. It was a failed attempt to climb Longs Peak that really changed him: The humbling experience sent him on a quest to visit all 59 U.S. national parks. From Glacier to Bryce, Saguaro to Kenai, the Everglades to Yellowstone, he roamed. And through the adventures that unfolded, he pieced his life back together. He started to let others in. And, finally, he was able to say goodbye.
---
Sprachen lernen ist kein Zuckerschlecken.

One minute film I made at the first year in La Poudrière, about my personal experience with the french language.
---
Das vorherige Projekt hatte ich vor nem Jahr mit weiteren Links auch schon hier in ner Linksammlung.

Photographer Ray Collins captures the magic that happens at the intersection of water and light. Each shot in this film was created from a single one of Ray's original photos. The stills are transformed into cinemagraphs – a hybrid between photo and video – an infinite loop that makes a single moment last forever.
---

The Mauritania Railway: Backbone of the Sahara is a documentary film directed by MacGregor. Concepted and produced in partnership with Antonio Aguilar, Tim Hyten, and Aaron Mckenzie, the film also features a score by award-winning composer Rhian Sheehan.
Built to transport Mauritania's vast iron ore reserves, the Mauritania Railway is a 704-kilometer line that cuts through the Sahara Desert on its way from the mining center of Zouerat to the port city of Nouadhibou on Africa's Atlantic coast.
At 3-kilometers in length, trains on this line are among the longest and heaviest in the world. Passenger cars are sometimes attached to the train, but more often men opt to stow away atop the hopper cars, where daytime temperatures exceed 40°C. Death from falls is common.
The Mauritania Railway: Backbone of the Sahara follows the journey of Malick, a 27 year-old merchant who relies on the train for his livelihood, even as he risks death each time he climbs aboard. Despite the danger, the train is a lifeline for Malick and the families that live along the railway's path.
Over a two year period, the crew behind The Mauritania Railway: Backbone of the Sahara embedded themselves in the community of men and women who depend on the train for their livelihood. The result is a cinematic yet immersive glimpse into a way of life that exists nowhere else in the world.
---

Tend tells the story of a father and daughter living peacefully in the forest, until one day their familiar routine begins to fall apart. As he struggles to keep the fire burning, the father loses sight of what's truly important – and spirals into an obsession with the flames.
---

Faroes Islands are a truly spectacular place for photography, such an amazing location, with a lot of drama on its cliffs and a really amazing light.
This time it has not been really easy to do this work, because to reach the most famous sites like Drangarnir, Traelanipan or the lighthouse of Kallur you have to walk long distances on a complicated terrain due to its inclination, also the photographic equipment and the drone weight's, made it very hard.
---

Jonas has dreamed of living in the sea all his life. But it's not possible. Or is it?
---

For all those impacted by gun violence. To all those lost.
---

Based on a poem by Walt Whitman, Tears depicts a man going through the depths of mind to confront loneliness, pain, and the need to adapt to tragedy in order to move forward in life.
---

Feelings of grief bubble up for Mikey as his Mother isn't there to share a special moment with him. Mikey's Father, who knows what's up, has a trick up his sleeve to help Mikey process his mourning. However, the trick works better than expected which leads Mikey's father to question if there was more to it than just pretend.