Fast immer, manchmal oder auch ab und an gibt es hier einen Sammelpost mit allem, was es nicht zu einem eigenen Artikel gebracht hat. Das ist mal mehr, mal weniger. Mal gucken, wie's klappt.
The baby of 1 year and 2 months is protected by his pet his older brother when he tries to move the child away from the balcony railings. To clarify that there is a security mesh and the child was never really in danger.
---
Former FBI agent and body language expert Joe Navarro breaks down how he approached interrogating during his time with the FBI. Joe sets the record straight; there is no simple way to tell if a human being is lying. When looking for deceit, Joe focuses on the subject's discomfort. He also does is best to make sure the subject feels comfortable enough to open up…a far cry from the images we see in many police procedurals.
(via https://boingboing.net/2021/01/26/former-fbi-agent-describes-interrogation-techniques.html)
---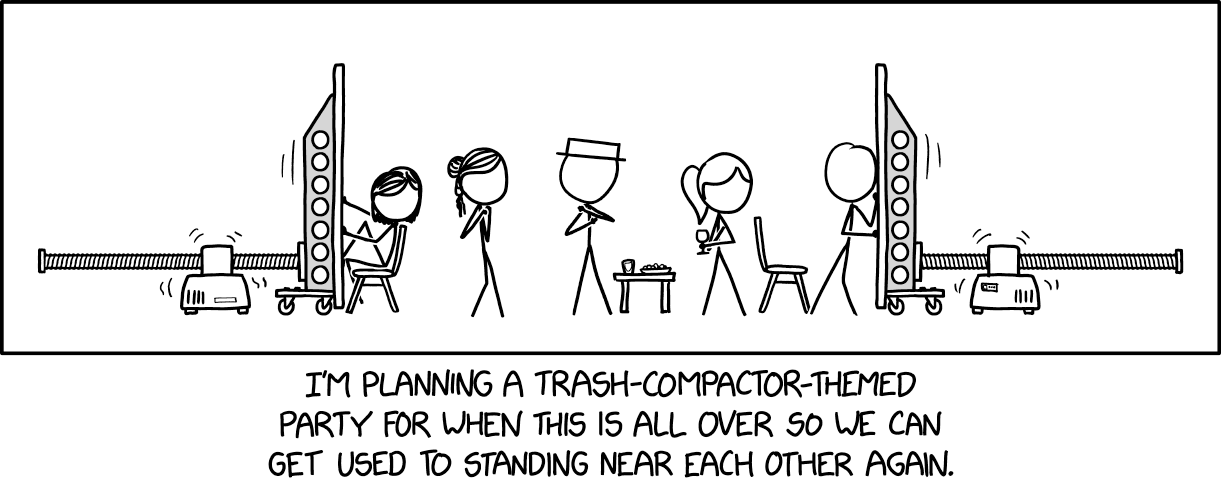 Titel: Trash Compactor Party. Autor: Randall Munroe. Lizenz: CC BY-NC 2.5. Danke!
---
A girl sinks into contemplation during a picnic at the park.
---
Long ago, four extraordinary beings of dual male and female spirit brought the healing arts from Tahiti to Hawaii and imbued their powers in four giant boulders. The stones still stand on Waikiki Beach, but the true story behind them has been hidden – until now.
---
The final piece is no longer a film specifically about street art, but a study of the process involved in making ideas come to life – told through a tour of David's world alongside the characters that live within it.
---
Werbung für den Macmillan Cancer Support, die präzise das tut, was sie soll. Sie trifft einen voll ins Herz. Mitten rein.
---