Es ist wie immer: Sonntag ist Zeit für Buchstaben und frischen Lesestoff.
Ähm…
Auf Amazon können Autoren bereits seit Jahren selbstgeschriebene Schundromane vertreiben und darin die eigenen Fantasien ausleben – von Inzest bis Dinosauriersex. Neben Titeln wie Weiße Mädchen in Afrika – Entführt und Entjungfert 2: Gefangen von den Gotteskriegern, gibt es auch überraschend viele Geschichten, die sich ganz konkret am Bild des triebgesteuerten Geflüchteten abarbeiten. Klar könnte man sagen: Wer mit Hand in der Hose vor dem E-Book-Reader sitzt, hat keine Zeit, Fake News auf Facebook zu teilen oder Flüchtlingsunterkünfte anzuzünden. Gleichzeitig legen die digitalen Groschenromane aber überraschend deutlich offen, wie sehr die neue Rechte von der vermeintlich animalischen Sexualität Asylsuchender besessen ist.
---
Noch so ein Job, den ich nicht machen wollen würde. Was man da jeden Tag zu sehen kriegt. Puh.
Passiert Ihnen das manchmal, dass Sie von Ihrem Arztstuhl aufspringen und die Eltern Ihrer kleinen Patienten so richtig durchschütteln wollen?
Ja, wenn ich eine Impfverweigerin vor mir habe. Oder eine Globuli-Gläubige, dann juckt es mich in den Fingern.
---
Ich bin kurz davor, es nicht mehr hören zu können. Dieser Text hier trifft es so gut, dass ich ihn glatt unterschreiben würde.
Der Text spricht mir aus der Seele. Kann ich als mexikanischer Westfale so unterschreiben. https://t.co/APisl2rK8x

— el flojo (@elflojo) 1. Juni 2017
Wer sich nach der Herkunft eines Mitmenschen erkundigt, ist kein Rassist! Im Gegenteil: Dank dieser Frage wird unsere Gesellschaft immer weltoffener. Eine Erwiderung von Michel Abdollahi.
---
Was Herr Lobo sagt.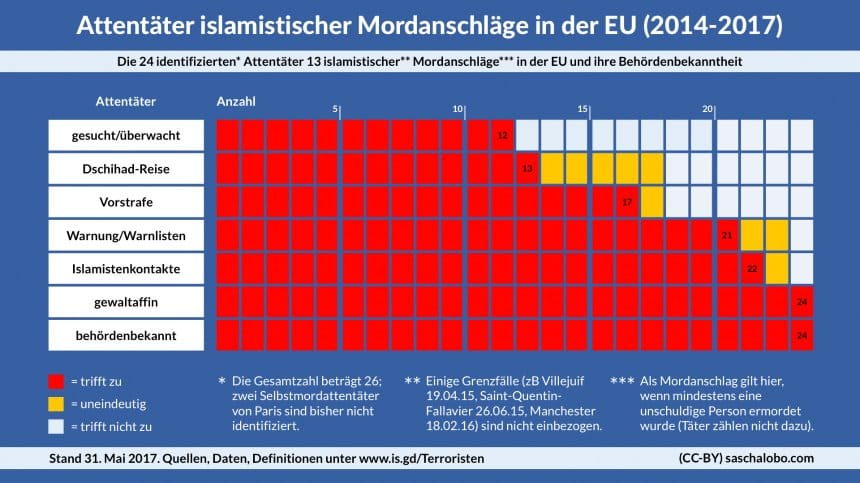 CC BY 4.0 saschalobo.com
Seit 2014 verübten insgesamt 24 identifizierte Täter 13 islamistische Mordanschläge in der EU – und alle, ja wirklich: 100 Prozent der Attentäter waren zuvor den Behörden bekannt und gewaltaffin.
---
Liest sich köstlich. Dummerweise ist er auch nach der Lektüre immer noch an der Macht. Lohnt sich aber trotzdem.
The American buffoon's commands were disobeyed, his secrets leaked at such a rate his office resembled the fountains at Versailles or maybe just a sieve (this spring there was an extraordinary piece in the Washington Post with thirty anonymous sources), his agenda was undermined even by a minority party that was not supposed to have much in the way of power, the judiciary kept suspending his executive orders, and scandals erupted like boils and sores. Instead of the dictator of the little demimondes of beauty pageants, casinos, luxury condominiums, fake universities offering fake educations with real debt, fake reality tv in which he was master of the fake fate of others, an arbiter of all worth and meaning, he became fortune's fool.
He is, as of this writing, the most mocked man in the world. After the women's march on January 21st, people joked that he had been rejected by more women in one day than any man in history; he was mocked in newspapers, on television, in cartoons, was the butt of a million jokes, and his every tweet was instantly met with an onslaught of attacks and insults by ordinary citizens gleeful to be able to speak sharp truth to bloated power.
---
Falsche Mannschaft, guter Typ, herrliches Interview.
ZEIT ONLINE: Wollten Sie überhaupt Profi werden?
Eigenrauch: Nö.
---